Home
Games
Battle Solitaire
Simultaneous gameplay together with social components.

GamePoint's Battle-Sollitaire makes it all possible. Get rid of your entire card deck before your opponent does using the rules of the original solitaire.

A great way to have fun with your friends or to meet exciting new people! Join the fun now for FREE.

Related Blog Entries
Wednesday, June 12, 2013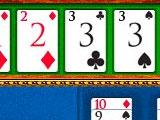 Recent User Reviews
Mar 16, 2016
dubbylees
0
0
no puedo entra!!!

Full Review
More Reviews